HI there! Welcome and thank you for visiting and choosing Style for Curves for your style guide. My name is Rachel Francoise and I'm here to share with you what's in this Fall.
This season carries lot of styles, and though its not the spring or Summer, the Fall also has amazing colors and prints. With that in mind, I decided to give you all a more specific type of style rather than a broad topic just because there's just so much to see this Fall and I don't want you to miss out on any of it.
Today, I am so excited to share with you my first article of this Fall's Fashion which is "Trending Printed Dresses of the season".  You'll be able to see dresses from everyday wear to girls night out, to date night and to other events.
Are printed dresses your thing? Then, keep scrolling down!

" This is an affiliate post which means that Style for Curves will get a small percentage of everything that you chose to purchase through us. However, you are NOT required but welcomed and encouraged to do so if anything in here please you. This is just like your regular online shopping because there will be NO EXTRA COST to your purchase. However, you may have a change to save by subscribing to our Website for Saving Newsletters."
FALL CASUAL
Printed Wrap Dress from ELOQUII at $109
size 14-28
This printed dress dress is for the tall and curvy women looking for a feminine and sexy dress to wear to any casual event during the Fall.
CITY CHIC's Golden Floral Tunic-Black from COEDITION at $99 sizes 14-24
Just like the dress at the top, this dress will look great for tall and short ladies. Great for any casual fall events. You can wear this dress with heels or flat, the choice is yours!
PROFESSIONAL WEAR
CITY STUDIOS' Trendy Plus-size Embossed A-line Dress from MACY'S at $69
sizes 14W-24W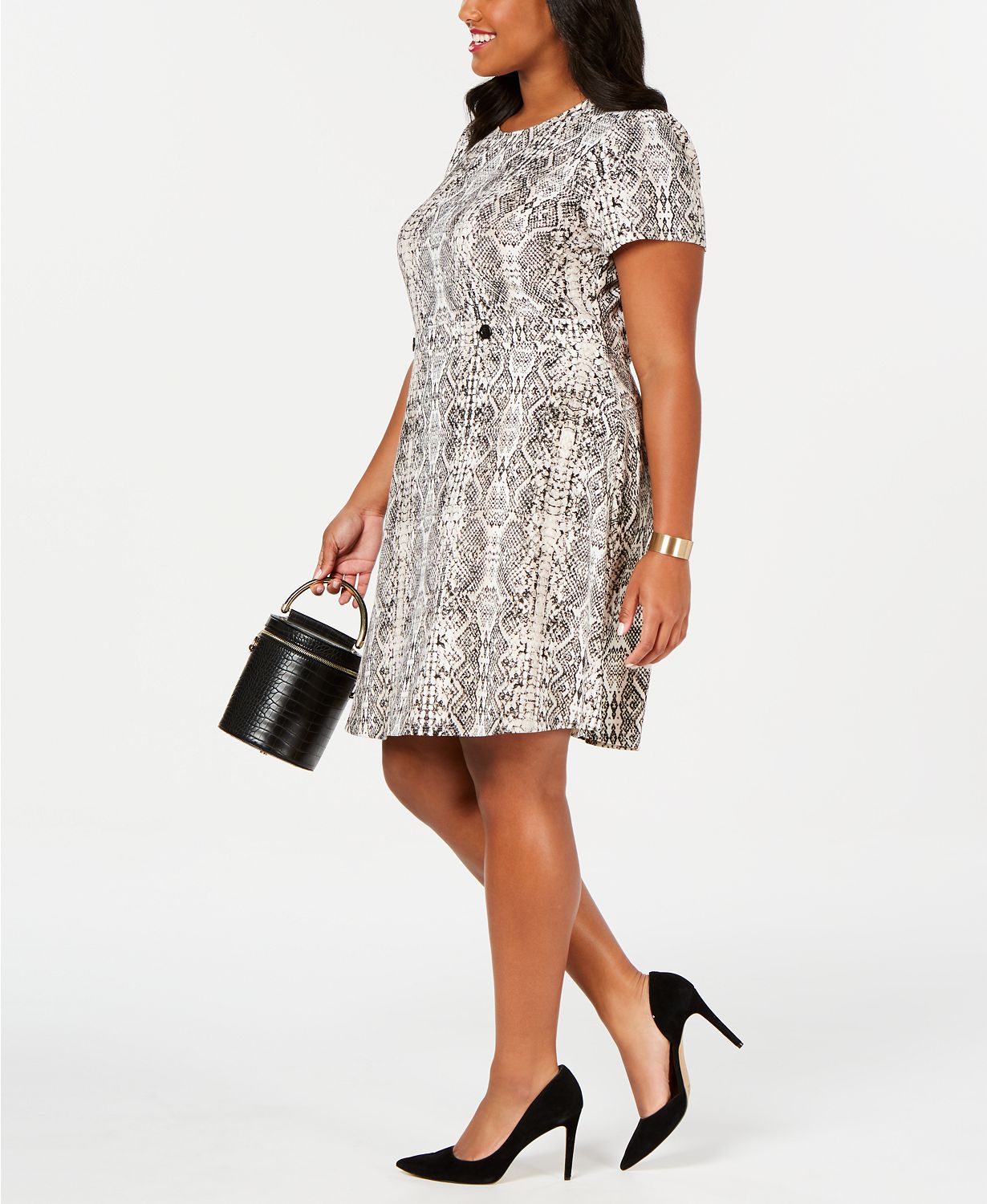 Looking for an outfit you can wear at multiple events? Then this dress is just what you need. You can wear it for church, work or at a  semi-formal wedding.
Girls night out
COLDESINA'S Jenny Dress in Leopard from COEDITION at $78
sizes M-3X
It's not Fall without leopard prints. This dress is for these fun ladies looking for a night out with the girls whether to go dancing or drinking. I love that this dress is sexy and classy. It's speaks " I'm a classy lady looking for fun. So, R.E.S.P.E.C.T!"
Date night
ROBBIE BEE's Metallic Animal-Print Trapeze Dress from MACY'S at $79
sizes 1X-3X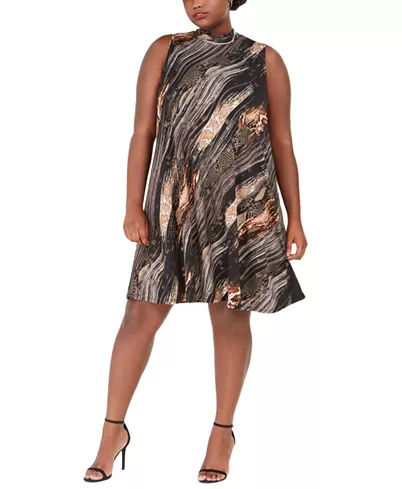 Are you invited to a special event? Well then, this dress great for you. If you're like me, you love to dance and be free but are worried about your stomach, then this dress is just for you. You can wear this as shown in the picture or with your own style.
DRESS THE POPULATION's Emery Midi Dress-Python from COEDITION at $275
Sizes 1X/3X
If you're invited to be someone's date to a wedding, Whether it's your coworker, boyfriend or fiance, then this gown's your number 1 go to. Click the picture to see the sexy low-back!
Multi-season
Indigo Patch Maxi Dress from CoEdition $119
sizes 14-24
Who said that Fall printed outfit has to be leopard print? I absolutely love this dress. It is feminine and has a Spring, Summer and Fall flow to it which means that you get to wear this in more than one season.  I also love that this dress doesn't scream "Fall" like some gowns would. What I meant to say is, the dress has just the right amount the orange/yellow/Sunset "Fall color" to it.
This dress will be great to wear to a date night or a girls night out.
CITY CHIC'S Mirage Dress from COEDITION at $119 sizes 14-24
`
Both these dresses are such great investment because it allows you to wear them at different season and events. The second dress for example can be worn at a bridal or a baby shower, a first date and etc. I understand that there are places that get pretty cold around the fall, however, I wouldn't recommend it to be worn with leggings,even nude leggings.

Finally,
Thank you so much again for visiting our website. I hope that you like what I've presented today. Please feel free to subscribe for more posts like this, comment below, and share us on social media.
Until next time,
Y'all have a great day!
Rachel Francoise