Hi there! So, my husband just told me that there was going to be an office party at his work this holiday. To tell you the truth, I haven't gone to any party this entire year since I had my baby last year on December 27th.  And I'm dying to go to this party, especially since it's going to be a very formal event. Girl, I'm so ready to dress up. It's like December can come fast enough!
I will be very straight forward with this posts and every others post for the holiday because I figure that all you're probably looking for some outfit to wear and not much about what I might have to say. However, you are very welcome to comment below for any questions and suggestions.
Ps: This post will include affiliate links on every store names that I'll provide below. These affiliate links will take you straight to the store that sells the products with NO extra cost to you. I, in the order end, will receive a small percentage of every purchases you make through this website (These % will help me to buy Christmas presents for my children)
Also, Since the pictures aren't linked diretcly, it means that, when you click to the website of the store of the dress that interst you, you may want to either scroll to find the dress or type the name of the dress which I'll provide on top of each one of them. It's pretty simple!
Now, let get started!
DRESSES FROM ROSEWE
Rosewe is a clothing store that very affordable outfit for  both Regular and Plus-Size women. To access their dresses below click "Rosewe" on the Title.
Plus-size V-Neck Sequin Embellished Dress at $32.36
sizes OX-3X
Plunging Neck-Lace Panel High Low Dress at $41
sizes M-XXL
High Waist Asymmetric Hem One Shoulder Dress at $39.52 sizes M-XXL
DRESSES FROM COEDITION ( Plus-size Fashion)
CoEdition is  a Plus-size Designer clothing Store that provide numerous clothes styles and brands such City Chic, Lost INk, Rachel Roy, etc. I have personally purchased from CoEdition before and was so amazed by the quality of their products as it was very rich in quality. I will recommend buying from CoEdition if you're looking for an outfit that looks rich/Expensive, great for showing off. Beside their rich quality, CoEdition have reasonable price and would also provide Interest-free payment plan for those who can't afford them right away.
Sidney's Closet Good As Gold Dress at $99 (4 Interest-Free Payment of 24.75 by AfterPay)
Sizes 14-24
CITY CHIC Lacey Love Dress at $129 (4 Interest-free payment available) Sizes 14-24
CITY CHIC's All Class Dress at $149 (4 Interest-free payment plan available)
Sizes 14-24
ALEX EVENINGS' Ruffle Caplet Sleeve Dress in Vintage Teal at $219 (4 interest-free payment plan available)
Sizes 14W-20W
CITY CHIC's Embroidery Attraction Dress at $189 (4 Interest-free payment plan available)
Sizes 14-24
CITY CHIC's Bright Light Dress-Gold at $119 (4 interest-free payment plan available)
Size 14-24
Eloquii is a plus-size brand that sell fashion-forward clothing from women of sizes 14-28. I have personally purchased from Eloquii, and I strongly recommend them for their great customer service (Click HERE to see the review of the dress that I have purchase from ELoquii and my experience with them). Like COEDITION, Eloquii also do offer payment plans for those that can't afford their favorite outfit right away.
I have provided pictures of their collections, however, if you're interested in purchasing or viewing more of their fabulous clothing, then click on ELOQUII on the title (dress from Eloquii) above.
Metallic Wrap Maxi Dress at $109.95 (3 Interest-free payment of $36.95)
Sizes 14-28
Twisted Shoulder Sheath Dress at $89.95 (3 Interest-free Payment plan of $29.98 with Affirm)
Sizes 14-28
Mock Neck Sequin Dress at $149.95 (3 Interest-free Payment of $49.98)
sizes 14-28
Tie Waist Midi Dress at $79.95 (3 Interest-free Payments of $26.95)
Size 14-28
DRESSES FROM MACY'S 
VINCE CAMUTO's Fit & Flare Metallic Jacquard Dress at $168 ( 40% OFF till January 2)
Size 2-16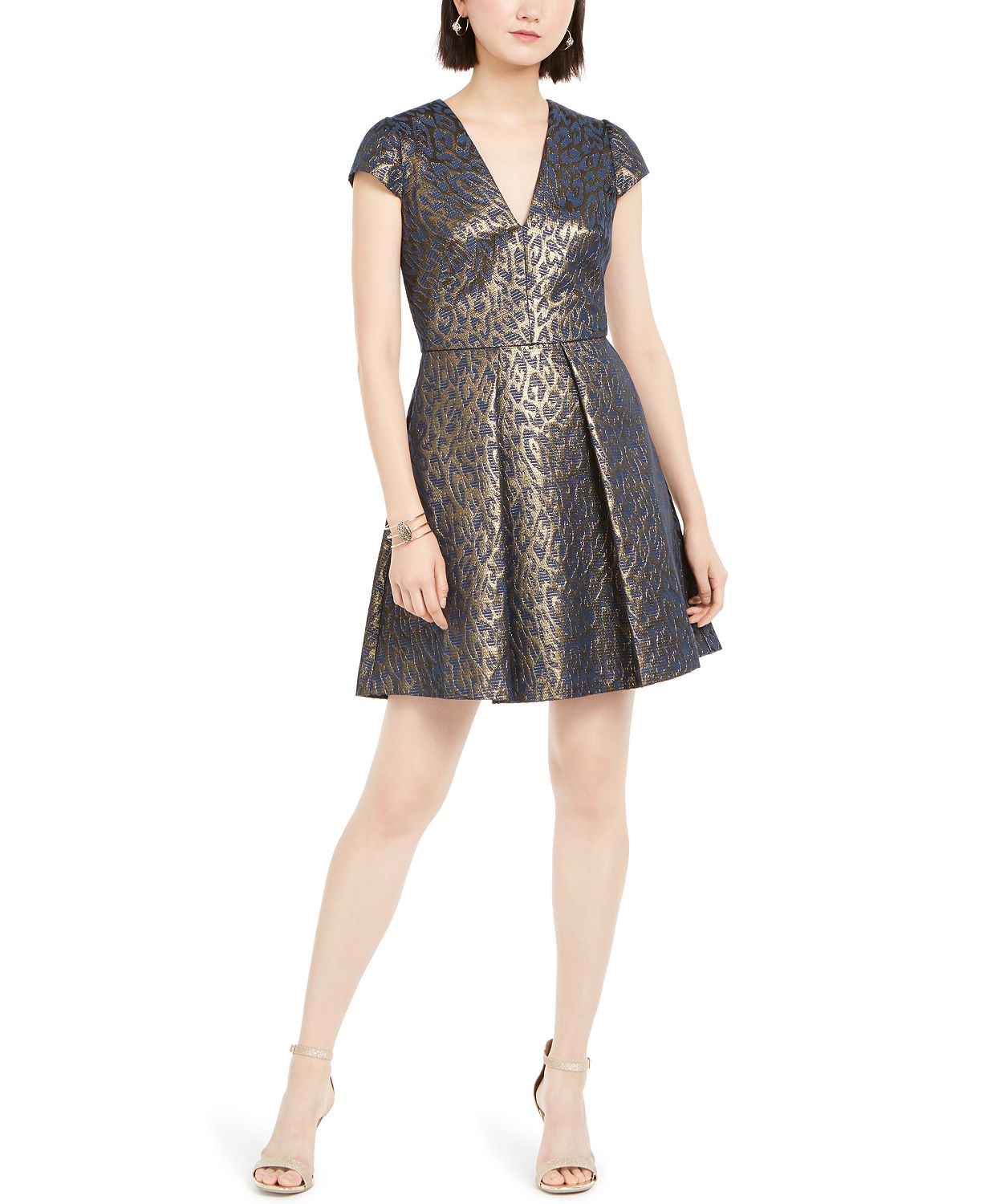 R&M RICHARDS Plus-size Sequined Surplice Dress-Gold Shampagn at $199 sizes 14W-22W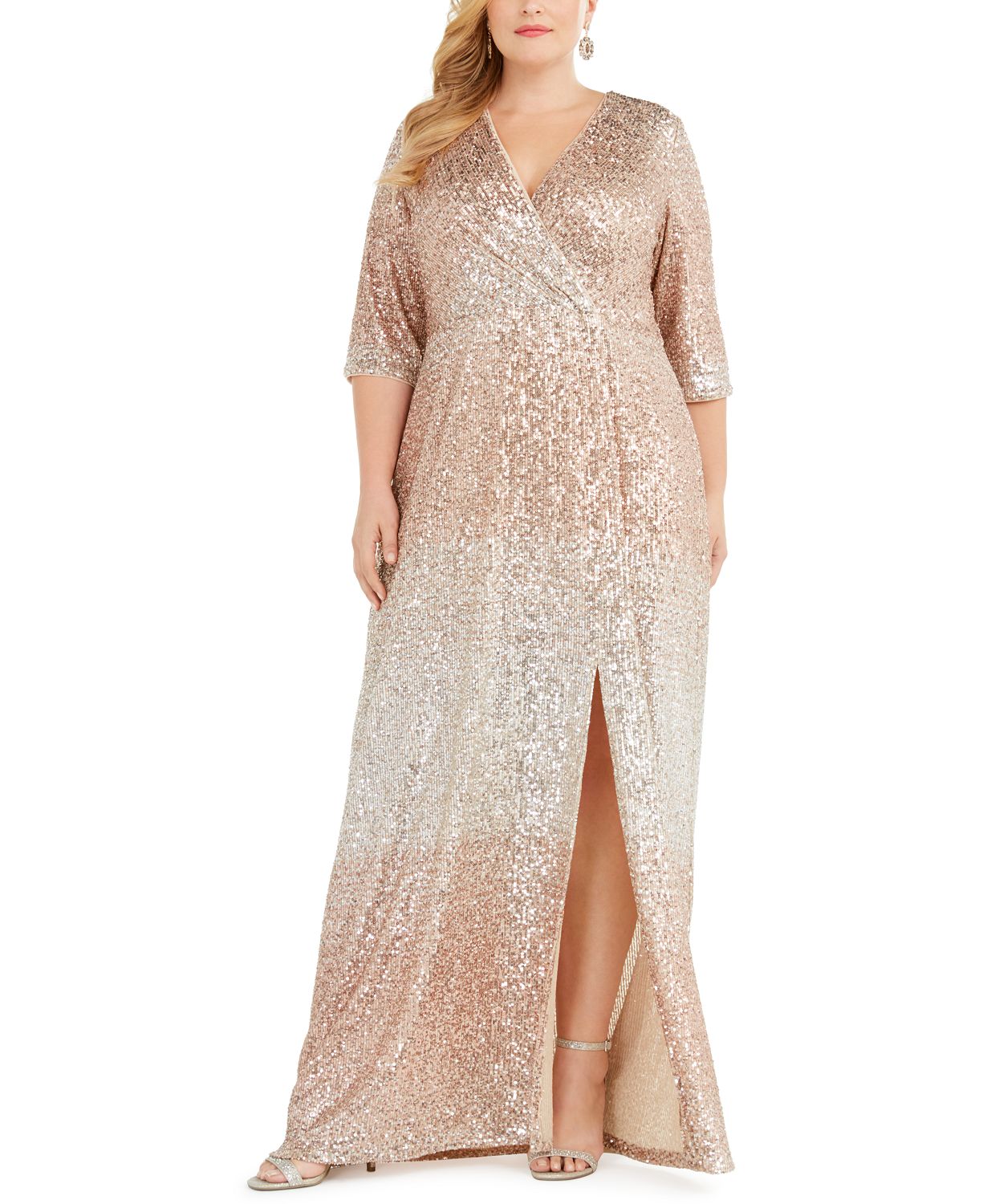 XSCAPE Plus-Size V-Neck Gown at $299
Sizes 14W-20W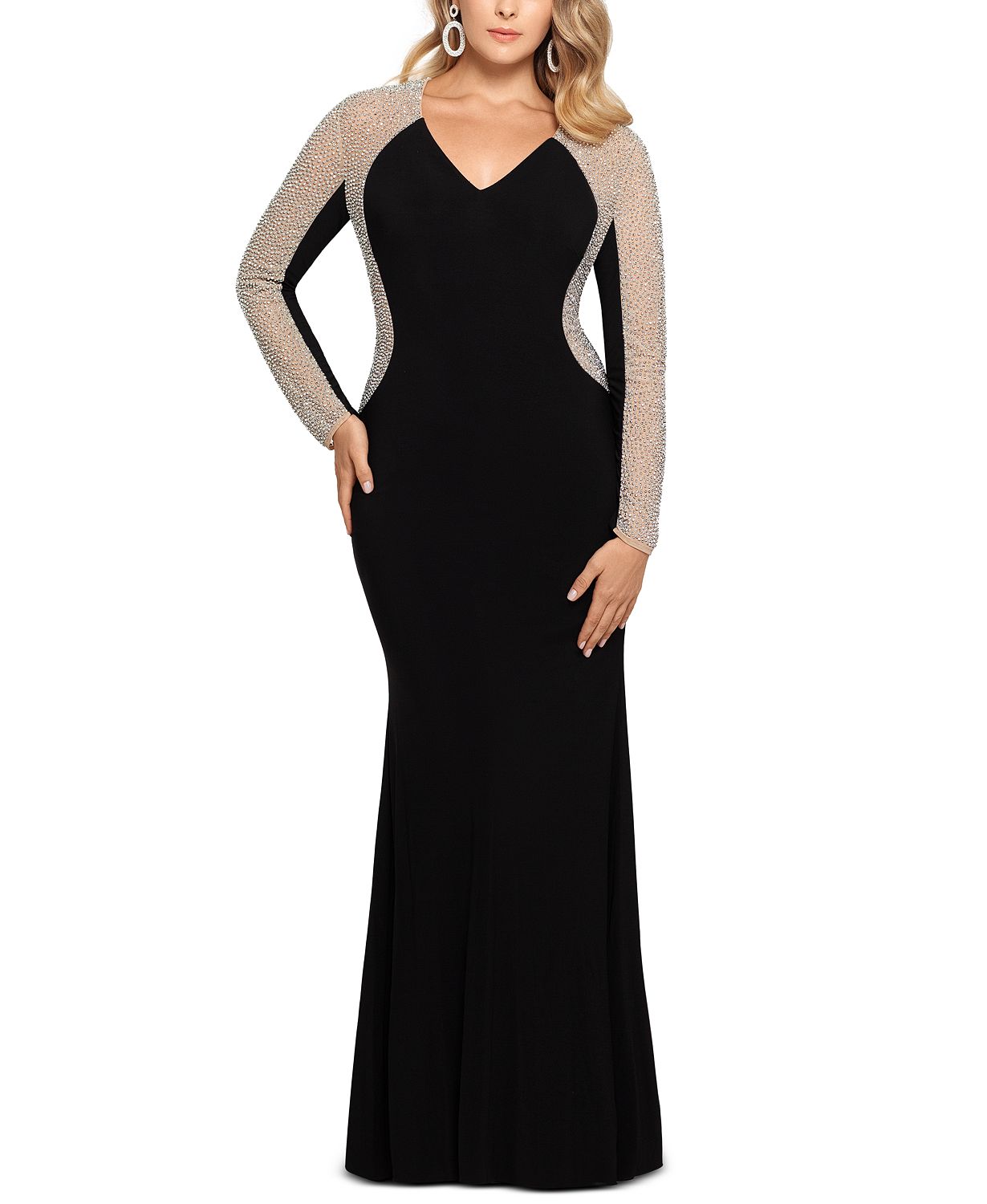 XSCAPE Plus-Size Embellished Neck Gown at $269 (Currently on sale for $160.99)
Sizes 14W/16W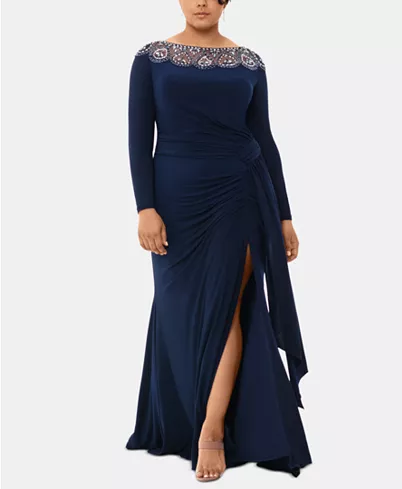 FINALLY,
I hope that you enjoyed seeing these gowns as much as I did. But it's not over yet! My upcoming article will include dresses as low as $17. So, stay tuned
For questions, please comment below and to purchase, please click on the store name of each title (Dresses from…). Remember, purchasing through this website would NOT cost you extra.
Until next time,
Merry Christmas!
Rachel Francoise