Hi there and welcome to Style for Curves! I'm so excited to create this post to show you the hot new styles this spring for plus-size women. I can't explain to you how excited I was when I first saw these outfits because I know just how hard it is to find flattering outfits for us, beautiful plus-size women. Finally, someone's making elegant and flattery clothes for us!
HERE WE GO!
STYLE FOR THE ELEGANT LADIES
Little Mistress Floral Bandeau Midi Dress From: CoEdition Sizes: 14-18 (size chart included) Price: $112
This elegant floral and off-the-shoulders midi dress is an amazing dress to wear on various occasions. I can see a very beautiful woman or bride wear this dress on a fancy brunch or to her rehearsal dinner. This dress will also be great to wear on a spring semi-formal wedding, a church, or a baby shower (very elegant for the mother-to-be).T
his outfit will look most flattering on tall and average size women with either a rectangular or an hourglass body shape.I would recommend that you wear this dress with high heel scandals, like in the picture, with a light color mini purse. If you can't wear heels, well, don't worry because this dress will still look good with some flat scandal even though you may not as look as well-dressed as you would if you have worn heels, for a fancier occasion.
My advice is that you bring both your flat and high heels scandals if you're going to a fancy event. Wear your heels first, then after a while, change to your flats.
ADD TO YOUR WORK WARDROBE
This body-hugging silhouette is an amazing choice for women looking for a very sophisticated look. This dress tells people that you're very confident, profession and very fashionable. So, I encourage you to wear this to your job interview or your office or business meeting (great to close that deal).
I recommend that you wore this outfit with some black stilettos heels, and a black or white jacket (wear it cape style).
Ps/ Click the picture to view more details on this dress materials.
BEST GUESTS
What an amazing dress to wear to your family/ friend's semi-formal wedding or to a special and romantic dinner date. With your hair up on a bun and dark lips stick like on the picture, this outfit would look great with some beige high heels sandals, mini purse and a beige shimmery scarf.
The belted waist and wide skirt of this dress is a perfect style for women who try to make their belly look slimmer. This outfit would look flattering on women with a body shape such as hourglass shape, apple shape, and rectangular body shape.
Whether you are short or tall, always be sure to wear this dress with some high heels scandals, especially with you're short. If you don't like to wear high heels, then i'll suggest that you do the things that I usually do. Bring two pairs of shoes, some gorgeous flats and heels. Wear your heels first, because first impression is very important, and then give it about an hour or 2 (after everyone have seen you) before you can change to your comfortable shoes.
MORE CHOICE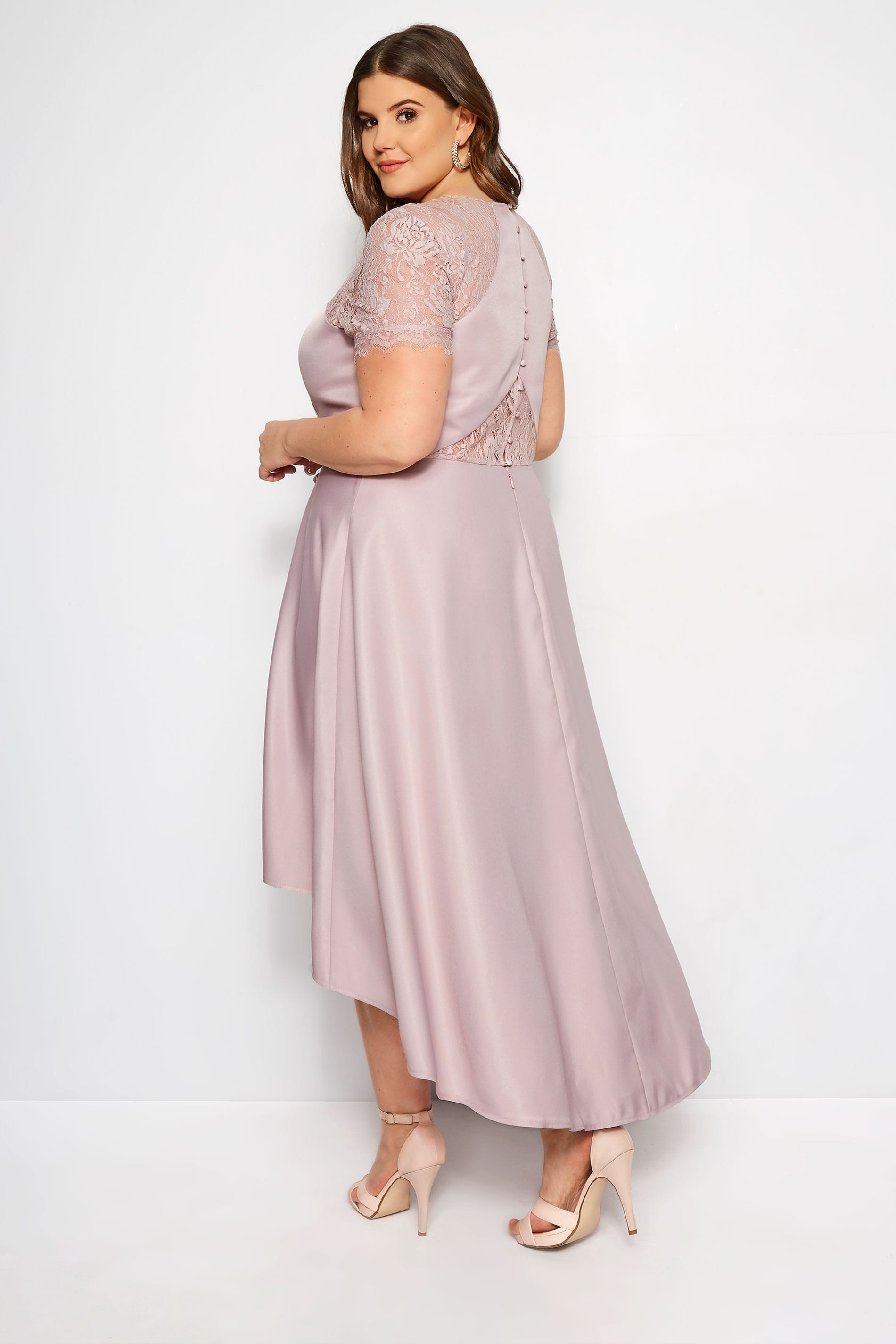 Do you have a semi-formal/formal wedding this spring? then this dress is just what you need. The high and low style of this gown makes it so that you can wear it if you're short or tall. The heels that the woman in the picture is wearing is actually a great choice for this dress (Scandals will be available in the website when you click on the picture above). It is both very stylish and comfortable, great for those who can't stand heels.
The floral lace adds more style and elegance to this dress that it makes it a lot more comfortable for women who prefer to not show their arms or backs. Any women with an apple shaped, hourglass, round or rectangular shaped body would look just great wearing this.
LAST BUT NOT LEAST!
I hope that you liked these special occasion Spring dresses for 2019 as much as I do. Please leave me a comment for questions and suggestions. Remember to stay tune for more article like this, because there's a lot to show. I know how hard it is to find flattering clothes for plus-size women and I'm very happy to share with you whatever I find online. PLEASE SUBSCRIBE to get more articles like this one and other newsletters.
Do you like any of these dresses and would like to either purchase them or have more information about it, just CLICK on the picture of which ever one you like!
Until next time, enjoy the Spring season!
Rachel Francoise